facades interiors objects textiles sculptures

surfaces want their individual design

Creatively designed surfaces and sculptures liven up the ambience, intrigue and invite to linger. In an innovative and exiting way they reflect the personalities of those who daily fill the thus beautified locations, vehicles etc. with life and communicate their story, vision and message. They render vehicles, places etc. recognisable, draw attention , provide reference points and become part of the talk of the town.
In areas calling for publicity or entertainment the design process offers an event suitable for marketing and as an occasion for a visit and a story to share in social media.
The use of colours especially developed for the professional and artistic domain guarantees long-lasting brilliance and durable results. The 'grafitti'-scene's respect for elaborated works protects these well from unwanted scribbles, slogans and the like.
suitable surfaces

Basically all dry, fat- and dust-free surfaces are suited for designs, even soft or rough surfaces and reliefs.
This applies to
interiors
vehicles
articles of daily use
sports equipment, musical instruments, equipment
textiles
banners
conventional artistic immage carriers like canvases etc.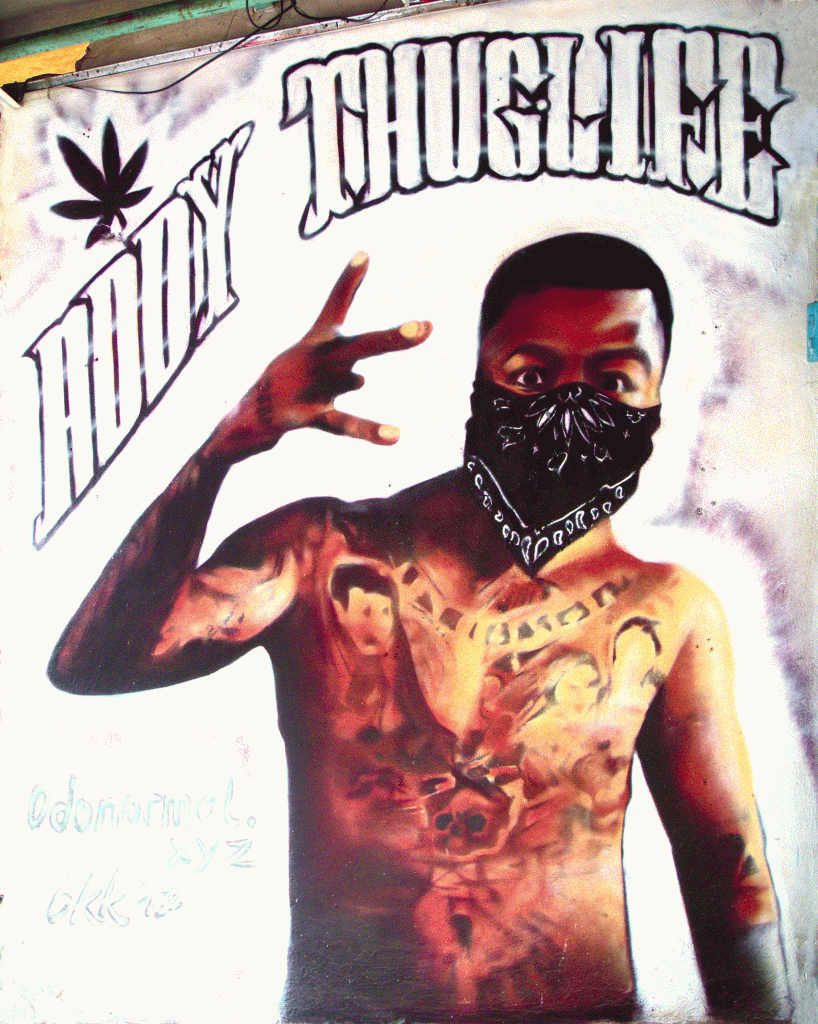 When it comes to large surfaces i like to apply an approved mixed technique, applying the toned wall paint foundation and fill colour at the same time and then placing transitions, structures and details using spray paint. (This is more accurate than using a paintbrush, while here the colour application behaviour is very appealing, too.) The advantage of this mixed technique is that it's at once time-saving, environmentally friendly and cost-effective.


sculptures
Creative design does not have to be limited to planes. Woodcarvings, concrete or clay sculptures, light installations or mosaics can wonderfully be combined to a unified whole with painted subjects or colour fields.
joint concept development


Diverse aspects can be the basis for our joint idea finding, e.g. a feeling, a certain atmosphere, impression or message, a topic, subject, colour field, style… As for the style various opportunities are provided: colour fields, an abstract, reduced , comic-like to illusionistic representation or adoption of diverse painting and drawing techniques from other media.
Based on this i develop a concept alining form and substance and establishing an interplay between image carrier and its social function and surroundings so that these enhance each other. After concluding the contract and an advance payment of 10 percent i now create a sketch on the computer, drawing and/or from photographies. I then arrange a photomontage, embedding the sketch in a photo of the surroundings of the areas to be designed. This way an exact impression of its future appearance is generated.

During a first on-site meeting we begin to develop a vision of the objects future appearance and appeal together. Right from the beginning the clients are involved in every phase of the creative process, expressing their uniqueness. There are no limits to imagination, anything that can be represented optically can be depicted.
We then talk over feed-back, like possible requested changes etc. in a previsously agreed number of appointments on the phone, in video calls or in person. This done, after having received another 30 percent earnest money i can promptly put the confirmed concept into praxis.

Budget
Designed surfaces and sculptures are individually tailor-made unique pieces for which accordingly no package prices can be quoted. For large-scale works the reference value lies between 50 to 350 Euros per square metre according to the amount of work. Effort can be individually tuned to the budget, whereby the following factors determine the total costs:
expanse / size
preparatory treatment according to kind and condition of the surface
effort / richness of detail
material expenses
if required travel cost
if required equipment – scaffolding, lift truck etc.
Given agreed on extensive creative freedom i am willing to decrease my efford fees to the extend possible. I am pleased to support self-administered and common good oriented projects in the spirit of my socio-cultural causes as far as possible. I especially appreciate cooperating with enterprises doing business in a socially-responsible way.